Welcome to Santa Barbara
This beachy coastal paradise effortlessly marries California surf culture with its rich Spanish heritage to create a hip, urban city commonly referred to as the American Riviera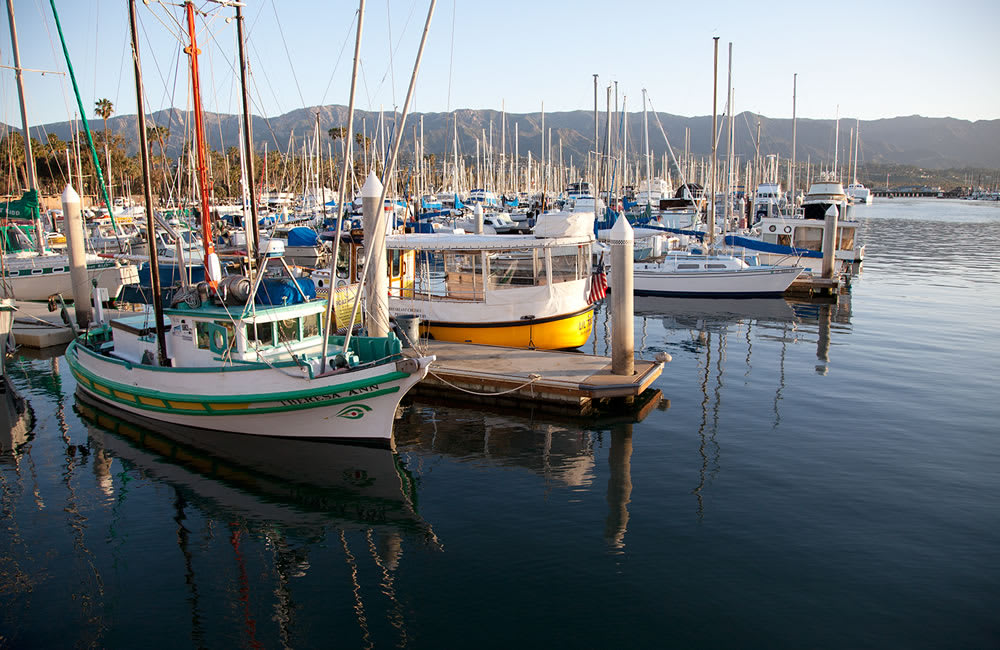 Nestled between the Pacific Ocean and the Los Padres National Forest, Santa Barbara is the pinnacle of upscale sensibility and California culture. Often referred to as the American Riviera, this city dazzles locals and visitors with its miles of pristine beaches set against California's central coastline and its laid-back, hip, urban vibe.

Coupled with its quintessential Spanish coastal resort flare and Mediterranean climate, you'll find a down-to-earth, friendly community willing to welcome you with open arms. Life in Santa Barbara is brimming with opportunity around every corner—whether it's by visiting the endlessly fascinating Funk Zone or exploring the plethora of cultural attractions, iconic landmarks, and lifestyle destinations, you'll never be bored in this city.

What to Love
Year-round sunshine
Spectacular ocean views
The Funk Zone
Top-notch dining and shopping
Pristine beaches
Variety of housing options
People & Lifestyle
Not only is Santa Barbara one of the best places to retire to and one of the most sought-after locations for young professionals, but it is also home to excellent public schools, making it a sought-after spot for families. Breathtakingly beautiful and centrally located within close proximity to Los Angeles, Santa Barbara offers all of the benefits of relaxing, beachside living while still being close enough to metropolitan amenities. Safe, stunning, and teeming with restaurants, wine tasting rooms, breweries, and recreational activities, this city is a mecca of activity and adventure.
Dining, Entertainment & Shopping
In the American Riviera, you won't find many chain restaurants, but what you will find is an abundance of farm-to-table meals, craft brews, critically-acclaimed wines, fresh-off-the-boat seafood, authentic Mexican, coastal-inspired dishes, and so much more. Those passionate about food will think they've died and gone to heaven! Some of the most popular eateries in Santa Barbara include:
Fresh fish straight off the boats boasts incredible views of the harbor and Santa Barbara's Riviera hillside.
Immerse yourself in Cajun-Creole culture at these Southern digs: and (make sure to try Palace's cornbread muffins and jalapeño martinis!).
A stylistic, modern spin on The Feed Mill, is an artisan marketplace specializing in farm-to-table production.
is an award-winning Mexican restaurant serving bold, innovative dishes.
Pairing gourmet Italian fare with an extensive wine list, will appease even the most discerning eaters.
Satisfy your sweet tooth with 's variety of classic and creative flavors.
is known for crafting American ales from local ingredients. They also have a tasting room for growlers and pints.
If you want to savor some classic American cuisine, there is no better place than lively and casual .
Santa Barbara-based are passionate about their coffee, offering a menu full of delicious treats like croissants and cookies combined with savory options such as sandwiches and salads.
If you thought the restaurant options were divine, wait until you find out how much shopping Santa Barbara has to offer! Combine your exercise and sightseeing trips by walking through its many colorful, vibrant districts, including the following:
Locals and tourists alike flock to Santa Barbara's . Over the years, the Funk Zone has grown and flourished into a spacious district ranging from the Pacific Ocean and Highway 101 to the Amtrak station. As the name suggests, you can anticipate a distinct flair in this district, full of eclectic art, cafés, boutique tasting rooms, galleries, and shops.
A visit to Santa Barbara wouldn't be complete without a stroll along 's famous boardwalk. Drink in the seaside, visit some of Santa Barbara's most iconic landmarks and take your children to the fascinating Santa Barbara Museum of Natural History Sea Center.
Santa Barbara Harbor, located along the famed Santa Barbara Waterfront, is a booming enclave of unparalleled views, exciting activities, and a plethora of shops and restaurants. It's also a great place to participate in recreational activities like sailing, paddleboarding, scuba diving, and more.
The surfer in your life will frequent Channel Islands Surfboards. They've worked diligently to deliver top-quality boards and designs for over 50 years.
After spending a fulfilling day shopping and taste-testing Santa Barbara's various eateries, relax and enjoy a stimulating night at one of the city's renowned theaters or event venues:
Outdoor concert venue is a 4,562-seat amphitheater that primarily hosts music concerts.
The historic hosts arts and cultural events all year-long. Due to its relatively small size and live acoustics, the theatre often features chamber music.
Downtown, you'll find the historic , a refined, gold-toned theater featuring live music and performance arts.
Nonprofit arthouse is the home of the Santa Barbara International Film Festival.
Things to Do
To honor Santa Barbara's Spanish heritage, the city celebrates the traditions of the city's founders in a week-long, city-wide event called . Similarly, Santa Barbara goes big on , with events all over the city.

​​​​​​​Since Santa Barbara is in such a beautiful location, there are multiple parks in the area. is one of the most popular because of its gorgeous man-made pond, gazebo, and meandering walkways. The Arbor Area is a popular wedding venue.

​​​​​​​Easily the most popular Santa Barbara park is . With the Pacific Ocean serving as a backdrop, Shoreline is situated on a narrow oceanside parcel of land on top of a coastal bluff. It features a whale watching area that provides a clear view of the Channel Islands and makes for a great observation area during the Gray Whales' migration months.
Schools
Students are typically divided between the Santa Barbara and Hope School Districts. The exemplary is located within the Santa Barbara Unified School District. Santa Barbara is also home to the research university, the .