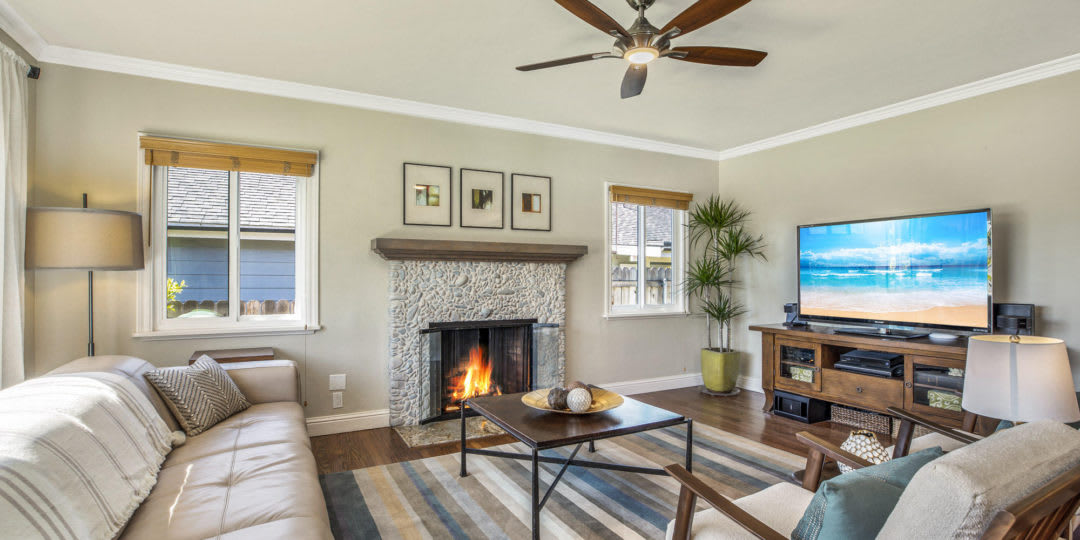 Before you ask, unfortunately, we did not get to help Harry & Meghan buy their Montecito estate. We are feeling pretty royal around here. Maybe we get to help with their next place. 🙂

So How Is The Market?

Wild, Crazy, definitely not what was expected!

If you are a seller, we do not remember a time like this. This is the strongest seller's market we have been a part of. It is an incredible time to sell.

But working first-hand with many buyers, the same sentiment is not shared. It is a very tough and competitive market to purchase a home.

Like we mentioned last month, our market (Carpinteria to Goleta) has way more buyers than sellers currently. Many properties are receiving multiple offers, and home values at many price points are pushing up noticeably.

A change we have noticed is that with the current demand, buyers are getting more bold and risking more. In markets like San Francisco, it has not been uncommon for buyers to remove contingencies in their offers prior to an Acceptance. For instance, they would give up the right to conduct physical investigations (home inspection) on the home before they had the home under contract. We are now seeing more sellers obtain inspections upfront, and some buyers are waiving their inspection contingency in their offer, something that was not common in the past. We've also experienced financed buyers removing appraisal or loan contingencies in their offers – that's a first in our market.

We are being challenged more than ever to think outside the box: For our sellers, what is the best approach to maximize exposure, limit risk of falling out of escrow and obtain the best return. For our buyers, how do we stand-out in a crowd and get our offer selected? As we attempt to stand-out, how do we wisely help our buyers limit their risk and not end up with some unfortunate surprise.

At the moment, many people from as far as across the pond, to across the country, and as close as San Francisco and L.A., think Santa Barbara is a great place to call home. Add to that the numerous locals who want to own their own piece of South County Santa Barbara and we have an extremely active real estate market!

Prices have pushed up, as evidenced by the 10% increase in our median home price and a record number of properties currently in escrow. On August 28th, 288 homes were in escrow with 223 of these happening since August 1st.
---
The High & Low
July 2020 Highest Sale | 4045 Bajada Ln, Hope Ranch | Sold for $9,250,000

July 2020 Lowest Home Sale | 715 W Arrellaga St, Santa Barbara | Sold for $629,000
---
July Statistics
2020 | YTD

Total Sales – 915 in '20 vs. 1,150 in '19 – DOWN 20%
Total Home Sales – 659 in '20 vs. 754 in '19 – DOWN 13%
Total Condo Sales – 256 in '20 vs. 396 in '19 – DOWN 35%
Median Home Sales Price – $1,375,000 in '20 vs. $1,250,000 in '19 – UP 10%
Median Condo Sales Price – $741,500 in '20 vs. $698,250 in '19 – UP 6%
Sales Above $5M – 41 in '20 vs. 33 in '19 – UP 24%

July

​​​​​​​Total Sales – 190 in '20 vs. 195 in '19 – DOWN 3%
Total Pending Sales – 242 in '20 vs. 154 in '19 – UP 57%
Total Off Market Sales – 24 Sales or 13%
Total Cash Sales – 58 Sales or 31%
Avg. 30 Year Fixed Rate Mortgage – 2.93% as of 8/28/20
*All Data Is Pulled From The MLS & Public Records
---
More in-depth: Montecito
Montecito's real estate market is extremely active. In July there were 42 sales. In the last 5 1/2 years, the most sales Montecito has experienced in a single month was 28, and it averages 18 sales a month.

​​​​​​​Remarkably, August appears to be another strong month for total sales as well. Through August 28th, 27 homes have closed in our multiple listing service and an additional 48 homes are under contract.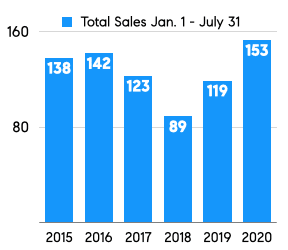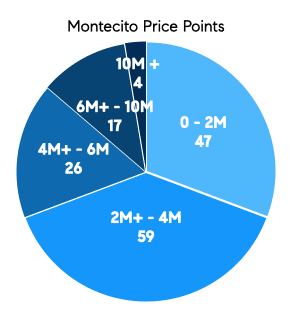 With only a couple days left, it is unlikely that we hit 42 sold properties again, but between off-market sales and what closes by month-end we should see another big month.

​​​​​​​Like our overall market, there are many buyers searching for homes in Montecito. The inventory is not as slim as other segments of our market, but finding the right home in this market is not an easy task.