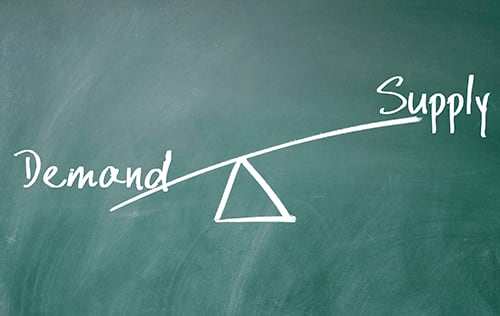 Supply & Demand
We feel like we're back in college applying the most basic principle of economics – Supply & Demand.

The demand for real estate in the Santa Barbara area is very high today but with a very limited supply. Prices are being driven up, sellers are experiencing multiple offers, and a lot of buyers can't get what they want.

We have experienced this first-hand across many price points over the last several weeks. We've been a part of several multiple offer situations – from both the buy and sell-side. We've been a part of six offers on a 669,000 condo, five offers on a $615,000 condo, 17 offers on an $850,000 house, seven offers on a $1,075,000 house, four offers on a $1,295,000 house, and two offers on a $3,895,000 house. We are hearing similar stories from agents across our market.

Overall, it's been great for many sellers, and we've had some victories for our buyers, but for others, we continue the battle to find them a sufficient home.

​​​​​​​Last week we received a request from a buyer who would be in Santa Barbara for the day wanting to see Spanish/Mediterranean styled homes up to $4M. Typically, we have several properties that meet those criteria – not this month. We could not find properties to show that day.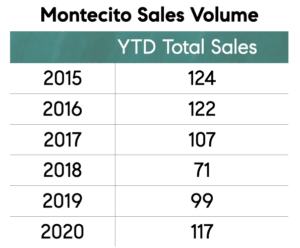 Remarkably, Montecito, where most of these $4M homes reside, has not experienced a slowdown in sales volume this year. For thefirst 6 months of the year, 117 homes have sold, which is on pace with the activity we experienced in 2015, 2016, and 2017.

In the higher-end homes, multiple offer situations are far less common. However, today we are seeing some due to the limited inventory available to the buyer.

​​​​​​​​​​​​​​​​​​​​​In summary, it is a great time to sell!

BUT that sale comes with a huge caveat. You might be able to get top dollar on the sale of your home, but if you want to stay in town, whether to buy or rent, finding your replacement home can be a challenge.

Though we admit this is not the most encouraging news for a buyer, we appreciate a challenge, and we love to succeed. We continuously think, how do we best help our buyer clients find homes? Someone ends up buying the new listings that come to market, why shouldn't it be our clients!

​​​​​​​This market will change again, but at the moment it is in favor of the seller. If we can help in any way, please give us a call!
---
The High & Low
June 2020 Highest Sale | 578 Toro Canyon Park Rd, Montecito | Sold for $11,000,000

June 2020 Lowest Home Sale | 245 Daytona Dr, GOLETA | Sold for $500,000
---
June Statistics

2020 | YTD

Total Sales – 725 in '20 vs. 955 in '19 – DOWN 24%
Total Home Sales – 531 in '20 vs. 635 in '19 – DOWN 16%
Total Condo Sales – 194 in '20 vs. 320 in '19 – DOWN 39%
Median Home Sales Price – $1,270,000 in '20 vs. $1,287,000 in '19 – DOWN 0.4%
Median Condo Sales Price – $725,000 in '20 vs. $702,250 in '19 – UP 3%
Sales Above $5M – 31 in '20 vs. 22 in '28 – UP 11%

June

Total Sales – 161 in '20 vs. 186 in '19 – DOWN 13%
Total Pending Sales – 202 in '20 vs. 139 in '19 – UP 45%
Total Off Market Sales – 30 Sales or 19%
Total Cash Sales – 40 Sales or 25%
Avg. 30 Year Fixed Rate Mortgage – 2.89% as of 7/29/20
*All data is pulled from the MLS & public records