If you're looking for a life balanced with the variety of a city with the charm of a small town, Santa Barbara could be a place for you. Featuring year-round temperate weather, gorgeous mountains, and breathtaking ocean vistas, this enchanting community is also home to an impressive cultural scene. With this in mind, let's explore specifically what makes Santa Barbara such an incredible place to live.
History
Santa Barbara is located at the northernmost end of Southern California and is separated from the rest of Southern California by approximately 15 miles of undeveloped coastline. Because of its relationship to the ocean and mountains and the City overlooking the Harbor, Santa Barbara is known as the American Riviera. The area was initially home to the
Chumash Indians
for thousands of years prior to Spanish discovery in the 1500's. The Spanish colonization of the area began in 1786 when Father Junipero Serra founded Mission Santa Barbara, and the city was officially incorporated in 1866. Today, Santa Barbara is a thriving city with a population of about 92,000 people and is a popular tourist destination with its beautiful beaches and dramatic nearby mountain terrain. The city's economy is primarily based on agriculture, technology, academia, light manufacturing, and tourism. Some of the most famous residents of Santa Barbara include actress Natalie Wood, singer Michael Jackson, actor Kirk Douglas, popstar George Michael, and President Ronald Reagan.
Architecture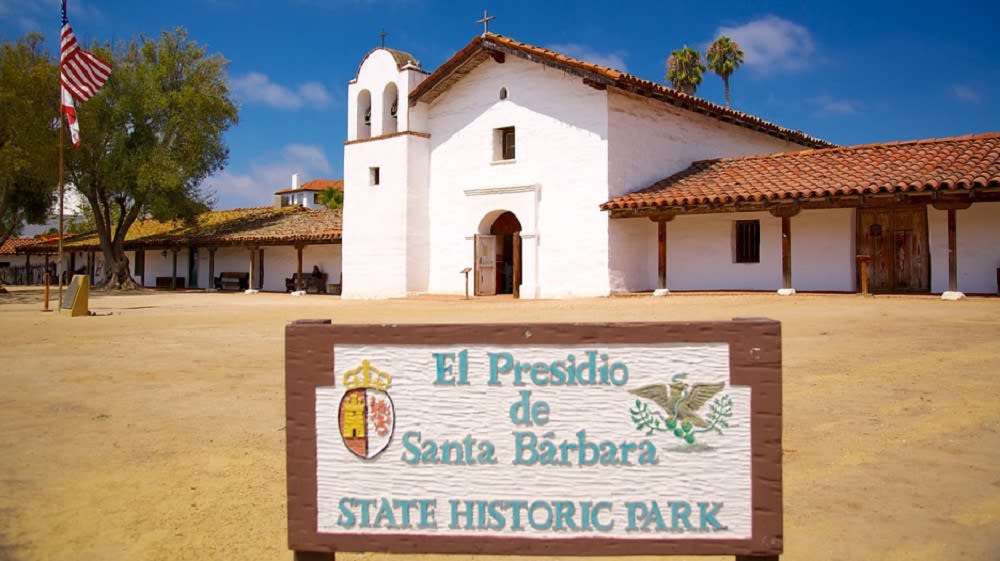 Santa Barbara is home to a wide variety of architectural styles ranging from Spanish Colonial to Art Deco. The city's oldest buildings are the Santa Barbara Mission and El Presidio, both of which were constructed in the late 18th century. Other notable examples of Santa Barbara's architectural heritage include the
Arlington Theatre
,
El Presidio de Santa Barbara State Historic Park
, the Old Santa Barbara County Courthouse, and the Santa Barbara City Hall.
The Santa Barbara Courthouse, was designed in the Mediterranean Revival style, which draws inspiration from Spanish and Moorish architecture. The city's buildings often feature intricate details and colorful finishes, which contribute to the sense of warmth and character the town is known for.


In addition, Santa Barbara's mild climate allows for a high degree of outdoor living, and many of the city's buildings feature large patios and balconies often accompanied by stunning views of the Pacific Ocean, the Channel Islands, or the Santa Ynez mountains.
Landscape
The landscape of Santa Barbara, CA, is very diverse with mountains and beaches, hills and valleys. The weather is also temperate, with mild winters and comfortable summers making it a popular destination for tourists and residents alike as well as many celebrities who are drawn to its quiet atmosphere and natural beauty. The city is also well known for its wine country, featuring many world-class vineyards and wineries in the area, and there are also a number of golf courses to enjoy. Santa Barabra is also a day's trip away from Los Angeles and its remarkable range of cultural and entertainment experiences. With its long list of desirable attributes, it's not hard to see how this town continues to grow in popularity.
Dining
The culinary scene in Santa Barbara is high quality and diverse. You can find everything from seafood at
Brophy Brothers
, to tacos at
East Beach Tacos
, Cajun at
The Palace
, and everything in between. One of the most popular places which takes advantage of Santa Barbra's coastal location is the
Blue Water Grill
, which serves fresh, local seafood. If you're looking for something unique to Santa Barbara, check out
The Lark
featuring local seasonal ingredients. Additionally, if you want to explore a variety of Santa Barbara all at once head to the Santa Barbara Public Market, where you can find a mix of local and delicious restaurants. And don't forget to head over to
Mission Street Ice Cream
, the original store front serving McConnell's Fine Ice Cream. Despite its contained size, Santa Barbara offers its residents an impressive range of culinary experiences to indulge in.
Shopping District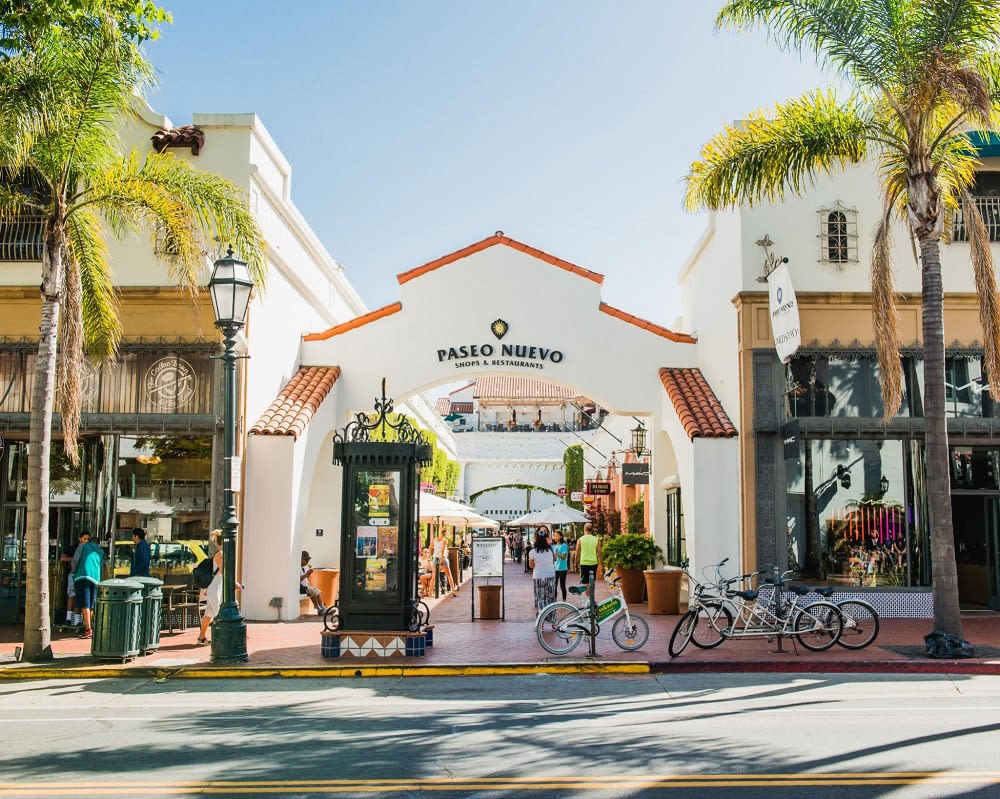 Shopping corridors in Santa Barbara, CA are largely outdoors - buildings along State Street are architecturally matched to the red-tile roofed, Mediterranean theme - centered around convenience and temperate weather. There are great shops, some national chains and some local boutiques spread from the beach to the 1400 block of State Street; there are fantastic places to go for clothes, accessories, gifts, and mementos. There are several different malls in the area, each with its own unique selection of stores. Paseo Nuevo Mall and the La Cumbre Plaza Mall being the largest. With a wide variety of options, residents of the town have everything they could need within a short distance of their homes.
Festivals
Santa Barbara is home to a number of festivals throughout the year. The
Santa Barbara International Film Festival
– one of the largest in the country – takes place every February and showcases independent cinema from around the world. The Santa Barbara County Fair, held annually in June, is a lively, family-friendly event with rides, games, and live entertainment. There is the Summer Solstice parade in June and Fiesta, Olde Spanish Days the first week in August. In September, the Santa Barbara Polo & Wine Festival brings together wine aficionados and polo fans for a weekend of fun. And in December, the Holiday Parade and Christmas Tree Lighting Ceremony kick off the colorful holiday. No matter the time of year, there's something for everyone in this charming coastal town!
Arts and Culture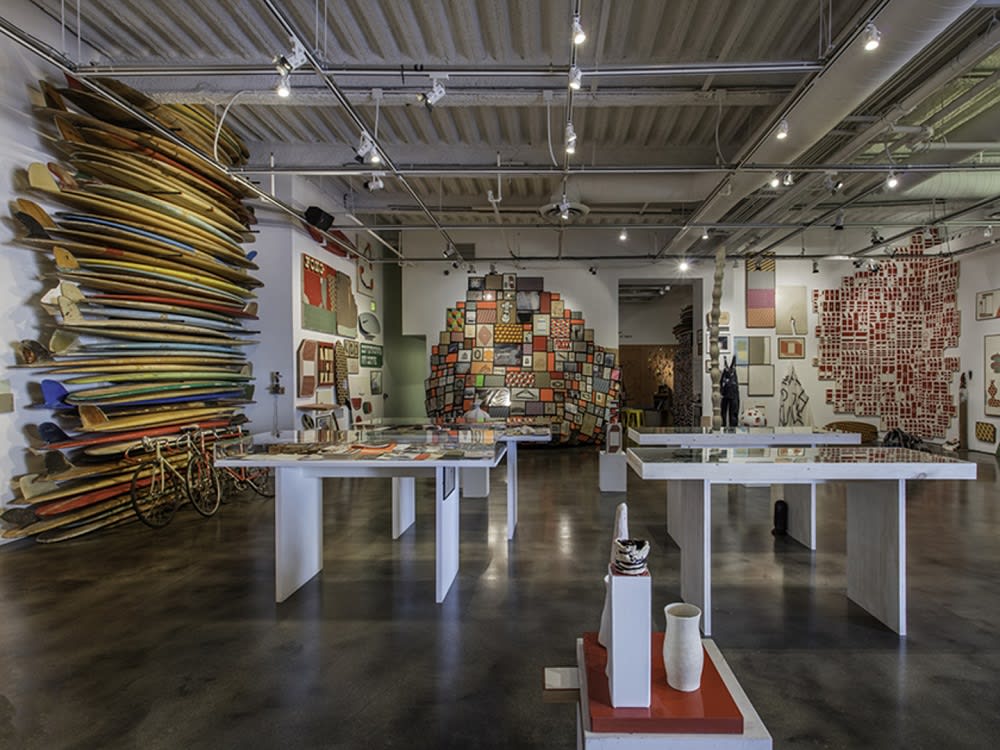 Photo courtesy of Santa Barbara
Known as the American Riviera, Santa Barbara is one of the most culturally rich and diverse cities in California. From its world-famous theater and music scene to its stunningly well-preserved architecture, there's an enormous amount to explore in Santa Barbara when it comes to arts and culture. The city is home to a number of acclaimed theaters, including the Lobero Theater, the Granada Theater, and the Santa Barbara Bowl. It's also home to a wide range of music venues ranging from small clubs to large outdoor amphitheaters. If you're into art, the town is overflowing with galleries and museums, including the
Museum of Contemporary Art Santa Barbara
and the Santa Barbara Historical Museum. With its striking array of cultural experiences, this town is sure to have something to pique your curiosity and inspire your creativity.
Parks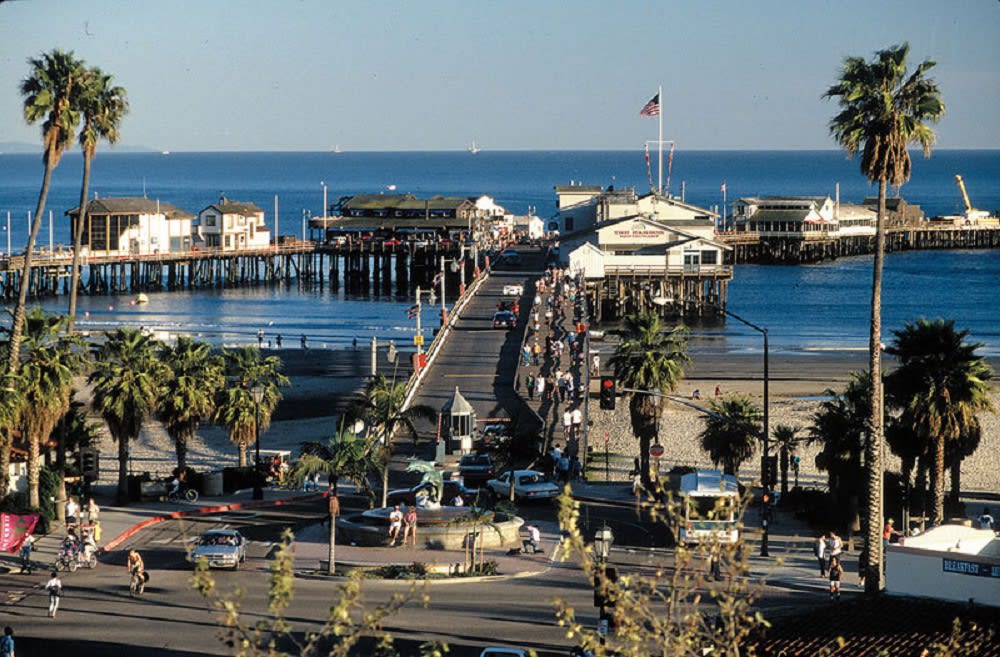 Photo courtesy of California Beaches
Santa Barbara has a wealth of parks, from the expansive beaches of Leadbetter and Elings to the narrow greenbelt of Alice Keck Gardens.
Stearns Wharf Park
is a popular spot for fishing and whale-watching, with benches and a small playground overlooking the harbor. Chase Palm Park has a large children's play area just across the street from the beach. For a more natural experience, head to Santa Barbara County's largest park – Los Padres National Forest. With miles of trails for hikers, bikers, and horseback riders, and plenty of open space for camping and fishing, this place is an excellent location to immerse oneself in the beauty of California's nature.
Beaches
Southern California is known for its beaches, and Santa Barbara is no exception. Stearns Wharf, located in the heart of Santa Barbara, offers stunning views of the Pacific Ocean and the Channel Islands, excellent fishing opportunities, and many restaurants and shops to enjoy. If you're looking for a more secluded experience, try heading to Gaviota State Beach, which is located about thirty miles west of Santa Barbara. There are several other state beaches close to Santa Barbara, including
Refugio
and El Capitan, each with its own unique landscape. If you're looking for something more active, Santa Barbara is also home to a great surfing scene, as the waves at Rincon Point are known as some of the best in the world. With its stunning scenery and ample amount of activities, Santa Barbara's beaches are definitely worth a visit and are a highlight of the area.
Things to do
Museums, zoos, and bars are all popular tourist destinations in Santa Barbara. The
Museum of Natural History
features exhibits on the wildlife of Santa Barbara and the surrounding area, while the Santa Barbara Museum of Art houses a large collection of paintings, sculptures, and other works of art. The zoo is home to a variety of animals, including lions, tigers, and bears, while the bar scene in Santa Barbara is known for its relaxed atmosphere and wide range of beer and wine options.
Vineyards
The Santa Barbara wine region is one of California's best. The vineyards are situated at a high elevation, and the coastal breezes keep the temperatures moderate. This makes for ideal grape-growing conditions, which in turn produce excellent wine. Some notable wineries in this region include Beckmen Vineyards,
Bridlewood Estate Winery
, Foxen Vineyard, and Santa Barbara Winery. All take pride in the wine crafting process and offer enticing sampling opportunities to be enjoyed.
Schools
Schools in Santa Barbara, CA, are highly ranked and considered some of the best in the state.
The Santa Barbara Unified School District
(SBUSD) is made up of ten elementary schools, three junior high schools, two high schools, and one continuation high school. The district also includes a preschool and a K-8 Spanish dual language immersion program while Santa Barbara High School was ranked the fifth-best public high school in California by Niche in 2018. The schools in the SBUSD have a variety of extracurricular activities and clubs to choose from, including music, theater, and sports, to ensure students receive a well-rounded education.
Looking for Santa Barbara beach homes?
If you are interested in learning more about why people love Santa Barbara or about homes for sale in Santa Barbara,
reach out to Kirk Hodson
for expert guidance. He loves to share Santa Barbara with others.