Photo Courtesy of Sophia Hodson
Santa Barbara
Real Estate
Spring is here!
Santa Barbara in the Spring is as pretty as it gets. Island views, great hiking, days are getting longer, mountain bike trails are dry and hard-packed, water is clear, sky is blue, night skies are clear, temperatures are comfortable...
February proved fantastic for the Seller and continued to be challenging for the Buyer. The absence of inventory is driving prices up!
Santa Barbara, Goleta, Carpinteria, Montecito, Hope Ranch, Summerland

Real Estate 2022

So where are we headed?
If inventory is a clue, we will continue to have fewer sales but at higher prices. With rising interest rates, rising prices, and limited inventory, a lot of would-be buyers are experiencing the difficulty of finding a home.
If you are thinking of selling, it's a great time to sell. Most properties are selling with multiple offers quickly. If you sell, do you have a plan for what's next?
Available single family residential weekly inventory is averaging 100 +/- properties a week this year. That's a quarter of what we need.
This includes homes, condos, & manufactured homes.
Inventory used to average 400 +/- single family units weekly.
Available residential inventory in February was an imbalanced 0.78 month supply. A balanced buyer/seller market has six months of supply; we have three week's supply.
If you are in the market to buy, you need to be ready, deliberate, decisive, and attentive.
-----------------------------------
Median Price: $1,797,500 (+14%)
23 Sales were off-market
Total sales year to date are down 20%
from 294 homes in 2021
*The February Median Sales Price is up 61%
____________________________
February 2021
*Feb. 2022 sales were corrected to 129 after this printing.
Nationally average home prices in the United States rose 18.8% in 2021, according to the S&P CoreLogic Case-Shiller U.S. National Home Price Index. That was the biggest increase in 34 years of data and well above the 10.4% gain recorded in 2020.
Zillow recently projected that average U.S. home prices will increase 14.3% in 2022, with cities in the South eyeing much higher gains.
_________________________
It is difficult for me to imagine our housing prices increasing another 14% this year. Frankly, I hope not.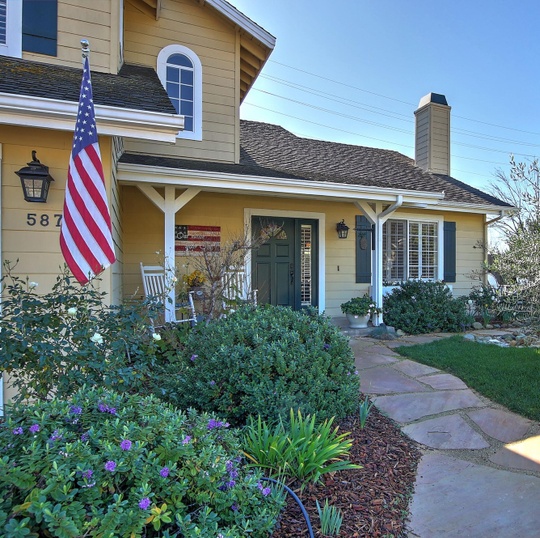 3 Bed | 2.5 Bath | 2392 SF
original list price: $1,749,000
I listed this home on the weekend, announced it in my Tuesday office meeting - the sellers had already gone under contract in another state on their replacement property and wanted to hustle - I scheduled four showings for Sunday. We received two offers Monday at $1.9+M. This is now the highest sale in the 93117, Kellogg School attendance area ever.
How to Combine Decorating Styles

for a Cohesive Look

Whether you're moving in with your significant other or accommodating the belongings of multiple generations, combining decorating styles can feel daunting. These real-life examples and expert insights will have you confidently combining pieces for a comfortable and consistent home.

© Compass 2022 ¦ All Rights Reserved by Compass ¦ Made in NYC
Compass is a real estate broker licensed by the State of California operating under multiple entities. License Numbers 01991628, 1527235, 1527365, 1356742, 1443761, 1997075, 1935359, 1961027, 1842987, 1869607, 1866771, 1527205, 1079009, 1272467. All material presented herein is intended for informational purposes only and is compiled from sources deemed reliable but has not been verified. Changes in price, condition, sale or withdrawal may be made without notice. No statement is made as to accuracy of any description. All measurements and square footage are approximate. Equal Housing Opportunity.